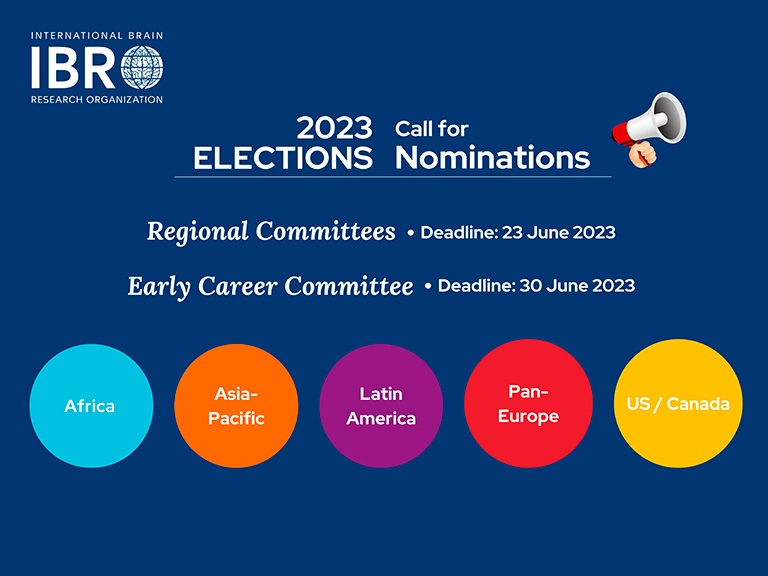 Call for members of IBRO's five Regional Committees
The Regional Committees are, as I'm sure that you know, centrally involved in delivering IBRO's mission across the five IBRO world regions. Recruitment of engaged new members for these committees is therefore of high importance to IBRO in order to ensure the best possible reach and impact of our programs globally. There are open slots for members in all five IBRO Regional Committees. Proposals of new members are made on behalf of, and by each of IBRO's close to 100 member organizations, and by the members of the IBRO Executive Committee. Motivated individuals who wish to be involved in delivering IBRO's mission in their region are warmly encouraged to contact a member society of IBRO for their nomination or contact IBRO directly for support in this regard via secretariat@ibro.org. Proposals for new members should be received on or before 23 June 2023.
New members of IBRO's Early Career Committee
The IBRO Early Career Committee (ECC) is a global network of 15 self-organized early career scientists who have transitioned within the past years to manage their own independent research programs. It is well known that this transition to independence often represents a critical stage in a scientific career, where new skill sets and networks are particularly important. The ECC is critically important for IBRO as a means to respond to the specific needs of this group of scientists. Furthermore, the ECC functions as an important voice towards IBRO's leadership and Regional Committees. As this group of excellent scientists are tomorrow's global scientific leaders, IBRO clearly has a significant interest in recruiting highly motivated individuals who share our commitment to diversity, equity and inclusion. Self-nomination, or nomination, is open until 30 June 2023.
I thank you warmly on behalf of IBRO for your help in disseminating these opportunities!