Home
/
Noticias
Circular 2 – Reunión anual Sociedad Chilena de Neurociencia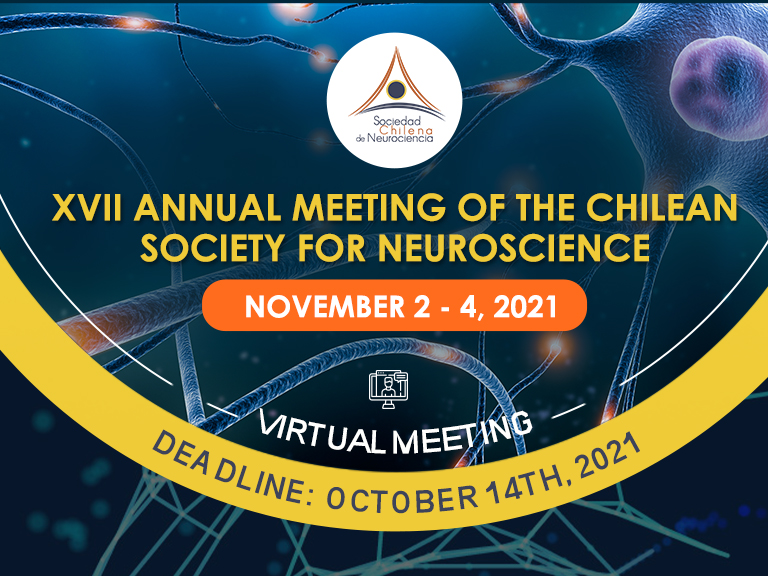 Estimado(a) Socio(a):
Tenemos el agrado de enviar el segundo comunicado acerca de la XVII Reunión Anual de nuestra Sociedad, que tendrá lugar en formato remoto.
Esperamos contar con su participación y la de sus estudiantes, la que sin duda contribuirá a dar realce a nuestra XVII Reunión Anual.
El idioma oficial de este congreso será el inglés, por lo que los resúmenes y paneles deben ser escritos y presentados en ese idioma.
En relación a las comunicaciones libres se sugiere indicar el modo de presentación (oral o poster). Sin embargo, el Comité Organizador definirá finalmente la modalidad de presentación.
PLAZO PARA RECEPCIÓN DE LOS RESÚMENES
Comunicaciones Libres, Poster, Conferencias y Simposios: 14 de octubre
El resumen se debe enviar a la plataforma que se habilitará a partir del 27 de septiembre en https://play.4id.science/neuroc6
COSTOS DE INSCRIPCIÓN Y ENVÍO DE RESÚMENES
Simposiantes y conferencistas internacionales: Liberados de pago
Estudiantes de pre y postgrado: Liberados de pago
Socios e Investigadores postdoctorales: $20.000 | US$28
No socios: $30.000 | US$40
Resúmenes: $15.000 US$20
Existirá una modalidad de registro "LABORATORIO" que permitirán incluir número ilimitado de participantes y resúmenes (del mismo laboratorio) por un costo de $120.000 (US$ 160)
PROGRAMA
Symposia
1.- Rare genetic diseases and their impact on neurodevelopment and CNS function.
Coordinator: Maria Paz Marzolo
Victor Faundez, "Systems Biology of rare neurological disorders". Department of Cell Biology, Emory University, Atlanta, USA.
Bredford Kerr, "Environmental enrichment as a bypass to attenuate the progression of Rett syndrome-like phenotype in a mouse model of the disease". Centro de Biología Celular y Biomedicina. Facultad de Medicina y Ciencia. Universidad San Sebastián, Chile.
María-Paz Marzolo, "The AP-4 adaptor complex, mutated in Hereditary Spastic Paraplegia, has ApoER2 as a new cargo with relevant neuronal functionsDepartment of Cell and Molecular Biology. Faculty of Biological Sciences. Pontificia Universidad Católica de Chile, Chile.
Hugo J Bellen, "Fly tools and approaches to study neurological rare and common human diseases". Departments of Molecular and Human Genetics and Neuroscience. Texas Children Hospital. Baylor College of Medicine, USA.
2.- Ecological Cognitive Neuroscience: moving towards real-life Science.
Coordinator: Rodrigo Montefusco; María de los Ángeles Juricic
Rodrigo Montefusco, "How valid are our experimental conclusions in real life?". Faculty of Medicine, Center for Interdisciplinary Studies on Nervous System (CISNe). Universidad Austral de Chile. Chile.
Paul Matusz, "Bridging past and future in education: Integrating multisensory models of brain and cognition with naturalistic laboratory research". Hearing & Speech Sciences, Vanderbilt University, Nashville, TN, USA
Jacqueline Snow, "Why realism is important for understanding human brain and behavior". Department of Psychology at the University of Nevada, Reno. USA.
Francisco J. Parada, "MoBI meets 4E cognition: getting ready for real-world neuroscience". Facultad de Psicología, Universidad Diego Portales. Chile.
3.- Microexons and Central Nervous System Development.
Coordinator: Maria Estela Andres / Paola Haeger
Manuel Irimia., "Parallel evolution of neural microexons in insects and vertebrates". Centre for Genomic Regulation, Barcelona Institute of Science and Technology, Barcelona. España.
Paola Haeger, "Cognitive impairment induced by prenatal ethanol exposition: New
insights into gene expression dysregulation". Departamento de Ciencias Biomédicas, Facultad De Medicina, Universidad Católica Del Norte, Coquimbo, Chile.
Elena Battaglioli, "Microexon contribution to environmental-stress adaptation: the
interesting case of LSD1". Department of Medical Biotechnology and Translational
Medicine, Università degli Studi di Milano-Via Fratelli Milano. Italy.
4.- Mente, Cerebro y Educación.
Coordinator: Paulo Barraza
Elena Salillas, "Redes cerebrales tras la aritmética simple: evidencia de magnetoencefalografía". Universidad de Zaragoza, España.
Marcela Peña, "Tecnologías interactivas para apoyar el desarrollo del lenguaje en pre-escolares". Pontificia Universidad Católica de Chile, Chile.
Cecilia Calero, "Enseñar… ¿Cómo y para qué?". Universidad Torcuato Di Tella, Argentina.
Paulo Barraza, "El Cerebro del Profesor: bases neurocognitivas de la docencia experta". Universidad de Chile, Chile.
5.- Young Neuroscientist Symposium.
Coordinator: Patricio Orio
6.- Brain aging and glial cells – When neuroinflammation shapes brain function.
Coordinator: Maite Castro / Francisco J. Rivera
Flavia E. Saravia, "Microglia in the context of aging and Alzheimer's disease". Faculty of Exact & Natural Sciences, University of Buenos Aires. Argentina.
Ludwig Aigner, "Targeting Brain Rejuvenation for the Treatment of Dementia". Spinal Cord Injury and Tissue Regeneration Center Salzburg (SCI-TReCS), Institute of Molecular Regenerative Medicine, Paracelsus Medical University Salzburg, Austria.
Saul Villeda, "Systemic mechanisms of brain rejuvenation" Endowed Chair in Biomedical Sciences, School of Medicine, University of California, San Francisco. USA.
7.- Molecular basis of memory and depression.
Coordinator: Jimmy Stehberg
Irit Akirav, "Targeting the endocannabinoid system in stress-related disorder". Department of Psychology, Haifa University, Haifa. Israel
Aline Desmedt, "A molecular switch in the transition from normal to PTSD-like fear memory". Neurocentre Magendie, INSERM U1215. Bordeaux University. France.
Jimmy Stehberg., "Role of astrocytes in memory and depression". Instituto de Ciencias Biomédicas, Universidad Andrés Bello, Santiago. Chile.
Kobi Rosemblum. "New inhibitors for QR2 to fight neurodegeneration and AD". Sagol Dept Neurobiology, University of Haifa. Israel.
Conference 1
Benno Roozendaal, Donders Institute. Radboud University Medical Center. Nijmegen. The Netherlands.
Title: Stress hormone effects on different aspects of memory quality.
Coordinator: Jimmy Stehberg
Conference 2
Casper Hoogenraad, Genetech, USA.
Title: Building a neuron: cytoskeleton organization and transport mechanisms'
Coordinator: Christian Gonzalez
Roundtable
Coordinator: Christian Gonzalez
"Humberto Maturana (1928-2021): Una visión sistémica de los seres vivos"
Jorge Mpodozis, "Evolución a través de la deriva del Nicho Ontológico". Departamento de Biología, Facultad de Ciencias, Universidad de Chile.
Juan-Carlos Letelier, "Algo Necesario para entender la génesis del concepto de Autopoiesis: Las interacciones entre Humberto Maturana y Heinz von-Foerster (1963-2002)". Departamento de Biología, Facultad de Ciencias, Universidad de Chile.
Maria de la Luz Cardenas: "Autopoiesis y Metabolismo". Bioénergétique et Ingénierie des Protéines, Centre National de la Recherche Scientifique (CNRS), Marseilles, France.
Para mayores informaciones en: https://socneurociencia.cl/
Atentos saludos,
COMITÉ ORGANIZADOR